Afternoon Tea in Oakville
Book a table to enjoy Afternoon Tea at Nyla's Room.
Indulge in a Classic Afternoon Tea Party in Downtown Oakville
Breathe, engage and be pampered with kind attention. Enjoy a guilt-free indulgence in fine, loose leaf teas, hand-crafted finger sandwiches, classic scones, whimsical petit fours in a truly warm and welcoming atmosphere.
Available Wednesday through Sunday, from 11am to 4pm.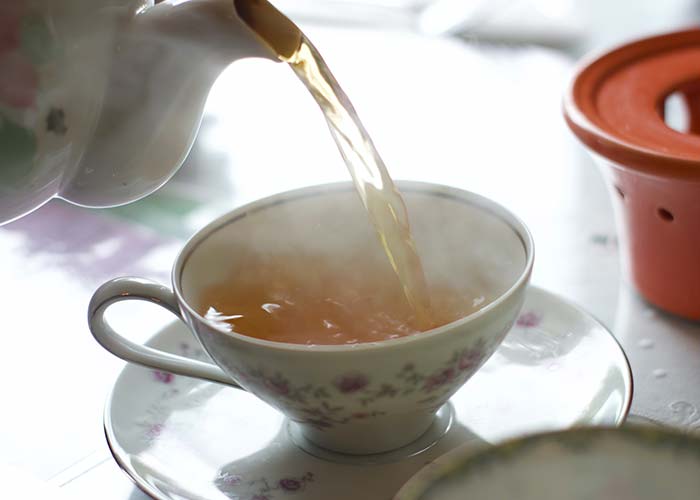 Downtown Oakville
We're located at 109 Thomas Street (near Lakeshore).
Family Atmosphere
Relax, connect and be pampered by our team.
Length of Tea Party
All tea party reservations are booked for 90 minutes.
Made to Order
Our sandwiches, scones and treats are made fresh to order.
Choose from a variety of loose leaf teas.
Earl Grey Classic
BLACK TEA
This immensely popular black tea consists of Ceylon and Assam black tea blended with natural oil of Italian bergamot for a classic citrus character.
Heavenly Cream
BLACK TEA
A divine tea, full of creamy richness and velvety smoothness– heavenly in every way. A beautiful long leaf Ceylon and Assam tea is blended with balanced notes of bergamot and creamy vanilla.
Signature Black
BLACK TEA
A signature blend of a spring Darjeeling and bodied Assam tea that will delight with its fresh, full richness and refined finish.
Jasmine Mist
GREEN TEA
Green tea leaves scented with four times its weight in fresh jasmine blossoms for a refined floral finish.
Marrakesh Mint
HERBAL TEA
South-African green rooibos delicately blended with a medley of mint for a refined and refreshing finish.
Rouge Provence
HERBAL TEA
South-African red rooibos blended with French florals and berries for a refreshingly refined and honeyed finish.
Peaches & Cream
WHITE TEA
A beautiful blend of white tea infused with the natural sweetness of peach and finished with a vanilla top note.
Oolong Creme
OOLONG TEA
A high-mountain oolong tea is a large-leaf, that falls between the green and black tea categories. It offers a creamy and characteristic silky smooth flavour.
After completing our booking form, you will be contacted by our Concierge to confirm your reservation.